Toddlers Child Care Program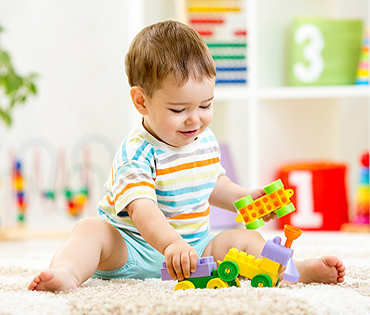 The Toddler Program continues to build on those big developmental milestones met during infancy. Toddlers bound into an environment that invites interaction with play materials and organized play spaces. Quality teachers provide daily meaningful experiences to support and increase the fast pace at which toddlers grow and develop. They experience literacy through sign language, books, puppet play, music, singing, games, and much conversation with peers and adults. Their cognitive skills blossom with many activities designed to unleash their already inquisitive and creative nature. Their gross motor skills soar as they climb, walk, and run their way through the special play structures in their corner of the world.
Objectives
Toddlers are ready to see and explore their world! Place of Grace provides an environment that is rich in experiences to develop the following skills:
Discover how to walk, climb, and navigate on their feet.
Connecting with others in a caring community that helps them form relationships that foster a sense of trust.
Learn sounds and replication for communication from loving teachers.
Discovering how things work in their world through developmental toys and activities.
Gaining self help skills such as washing, feeding, and drinking independently as part of a daily structured routine.
Expressing themselves through experimentation in art, games, play, and dance.
Classroom
Our Toddler Classroom is filled with developmental toys, mirrors, rugs, sensory tables, pretend play, instruments, building blocks, lots of great books, and their favorite, an indoor climbing structure. The toddlers will always have warm and welcoming teachers on the floor to cuddle up and share a book or steal a quick hug between play stations too!
Communication
We want to make sure you know all the good details about your little one's day. An individualized daily report, weekly newsletter, and quarterly evaluation will all be a part of keeping you apprised on the important information that you need to know regarding the critical development that is taking place in our care. You can always take a peek on the Kidsvision cameras or stop in for a visit too.